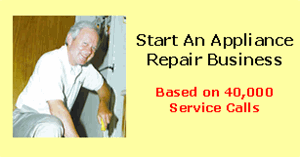 I had been reading the appliance repair bible Troubleshooting and Repairing Major Appliances, by Eric Kleinert
) for about a week, and I realized I needed more practical training.
I needed to see a real appliance being worked on, how they figure out what's wrong with it, get the dang thing open and what they do once they're inside.
More than just knowing about the machines I would be working on, I needed to familiarize myself with the basics of the appliance repair business. What do you charge?  How do you get customers?  What do you say to your customers?  What tools and parts do you need?
To start with, I kept thinking maybe there were some videos available on the internet where I could just watch somebody working on different models of machines so I could just familiarize myself with how a service call is handled. However, I noticed that online there was little diagnostic help.
I Googled "appliance repair videos" and I saw, "Uncle Harry's Online Appliance Repair Manuals, Videos and Training."
I went over to Uncle Harry's website to review some sample videos.
Here was this veteran of the appliance repair business who used to be a teacher, working on actual appliances and showing you the ropes in his videos – it was EXACTLY what I was looking for.
I couldn't believe it.  He has been improving his manuals and videos showing actual machines and actual repairs since 1997.  Best of all, he had the thing I wanted most, which was the running your own appliance repair business stuff.
If I studied this, it would cut MONTHS off of my startup time!
OK, it wasn't free, so I spent about a week mulling it over.  His self-study technician training and business start-up program can be financed with a reasonable downpayment but paying in full was cheaper.
But I really liked Harry's style.  The more I watched his sample videos, the more I realized how clear he was, and how easy it was to understand what he was teaching.  He kept everything on the practical side, never got too technical or theoretical, just told you what you needed to know to get the job done.
I called Harry and he answered the phone.  Harry will talk to you.  Hey, he does answer your calls, your texts, and your e-mails.  That was huge.
With his money back guarantee to reassure me, I went ahead and bought the course.
Uncle Harry is the virtual version of the mentor I was looking for.  Watching his videos and reading his step-by-step manuals is the closest thing you can get in a home study course to go on service calls with a veteran appliance repair guy.